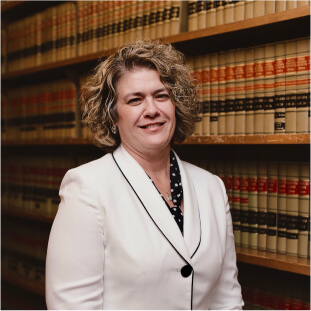 Practice Areas: Municipal Law; Estate Planning; Estate Administration; Tax Law; Business Organization; Real Estate; Adverse Possession; Boundary Disputes; Easements; Quiet Title.
Admitted: 2000, Missouri
Law School: University of Missouri, J.D.
Member: Jefferson County Bar (President, 2005-2006); Jefferson County Women's Bar Association (Treasurer 2009).
Biography: City Prosecutor: Hillsboro, 2000; DeSoto, 2001-2003.
Cases: Gateway Foam Insulators, Inc. v. Jokerst Paving & Contracting, Inc., 279 S.W.3d 179 (Mo. 2009); Shapiro Brothers, Inc. v. Jones-Festus Properties, LLC, 205 S.W.3d 270 (Mo. App. E.D. 2006); Schlientz v. Rock Township Ambulance District, 146 S.W.3d 404 (Mo. App. E.D. 2004); In re N.S., 77 S.W.3d 655 (Mo. App. E.D. 2002); State ex rel Stubblefield v. Bader, 66 S.W.3d 741 (Mo. 2002).
Bianca L. Eden was born and raised in Lawrence County in Southwest Missouri. After graduating from Aurora High School, she attended the University of Missouri-Columbia on several academic scholarships. She graduated from the University of Missouri-Columbia with a Bachelor of Arts in History, magna cum laude, and a Bachelor of Science in Education, summa cum laude. Upon finishing her undergraduate work, she enrolled in law school at the University of Missouri – Columbia.
After her graduation from law school in 2000, she and her husband moved to Jefferson County and she began working for the Wegmann Law Firm. Within less than a year, she had tried cases to conclusion and successfully prosecuted appeals to the Missouri Court of Appeals, Eastern District, and to the Missouri Supreme Court. In her tenure at the firm, she has established a varying practice that includes probate, estate planning and administration, real estate, adoption, business organizations, municipal, tax, and school law.
She served as the Jefferson County Bar Association President from 2005-2006. She currently serves as a member of the Jefferson County Family Drug Court Team and as Treasurer of the Jefferson County Women's Bar Association.