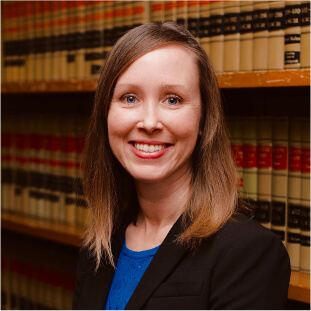 Practice Areas: Family Law; Paternity; Divorce; Modification; Custody; Child Support; Name Changes; Juvenile Law (Abuse and Neglect); Guardianship and Conservatorship; Landlord-Tenant Law; Wills; Living Wills; Powers of Attorney; Local Government Law; Municipal Law
Admitted: 2003, Missouri; 2004, U.S. District Court, Eastern District of Missouri
Law School: University of Missouri at Columbia, School of Law, J.D.
Member: Jefferson County Bar Association; Women's Law Association of Jefferson County (President, 2011-2012); Young Lawyer's Association of Jefferson County (Secretary, 2003-2004).
Biography: City Prosecutor, DeSoto, 2004-2011; Board of Directors, Jefferson County Port Authority 2013-2016; Member: Hillsboro Community Civic Club; Girl Scout Leader.
Cases: In re T.R.J., 214 S.W.3d 408 (Mo. App. E.D. 2007); Okie Moore Diving & Salvage v. Watkins, 239 S.W.3d 631 (Mo. App. E.D. 2007); Gumpanberger v. Jakob, 241 S.W.3d 843 (Mo. App. E.D 2007); Gateway Foam Insulators, Inc. v. Jokerst Paving & Contracting, Inc., 279 S.W.3d 179 (Mo. 2009).
Jessica Mikale moved to St. Louis in 1993. Shortly thereafter, she earned her B.A. in Biology, magna cum laude, with minors in Spanish and political science from Truman State University. From there she attended the University of Missouri-Columbia School of Law where she graduated in 2003 with her J.D. and a Certificate in Electronic Commercial and Intellectual Property Law.
After graduation, she and her husband moved to Jefferson County where she began her practice with the Wegmann Law Firm. Her practice initially included family law, landlord-tenant law, workers' compensation defense, public entities, estate planning, personal injury cases, insurance defense (including jury trial work in Jefferson, St. Francois, Franklin, Washington and Ste. Genevieve Counties, and the federal court) and intellectual property (trademarks and copyrights).
Today, Ms. Mikale has focused her practice on family law (including dissolutions, paternity actions, and modifications), real estate law (including representing several Jefferson County subdivisions) and municipal law. She is also a Missouri Supreme Court approved civil and divorce mediator.
Ms. Mikale is a graduate of the Missouri Bar Leadership Academy (2010-2011) and a current member of the Jefferson County Bar Association (Treasurer 2014-2015/President 2015-2016), the Jefferson County Women's Bar Association (President 2011-2012), the Young Lawyers Association of Jefferson County (Secretary 2003-2004) and the Jefferson County Bar Association Pro Bono Committee. She is also a member of the Local Government Law Committee (Communications Chair 2011-2014), Hillsboro Civic Club and the Hainline Heritage Charitable Foundation Board of Directors. She previously served on the Jefferson County Port Authority Board of Directors (2013-2016) and was Prosecutor for the City of DeSoto from 2004-2011. Ms. Mikale is a Girl Scout Leader.