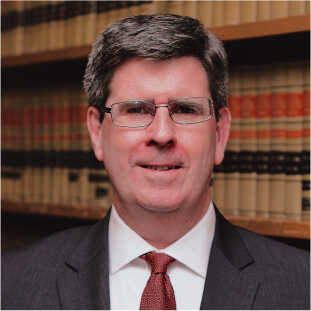 Practice Areas: Personal Injury, Workers Compensation, Civil Litigation, Municipal Law, Contracts, Criminal Defense, Traffic Violations, Family Law, Estate Planning and Probate.
Admitted: 1996, Missouri; 2007, United States District Court of Eastern District of Missouri
Law School: Southern Illinois University, J.D.
Member: Jefferson County Bar Association; Missouri Bar
Biography:
Mark Bishop has been an attorney since 1996. During that time, he has been lead counsel in over sixty (60) jury trials in Jefferson, Ste. Genevieve, St. Francois, Washington, Franklin, and St. Louis Counties.
In February 2007, he became an attorney with the Wegmann Law Firm in Hillsboro. During his tenure with the firm, Mark has handled cases involving personal injury, Workers' Compensation, estate planning, contracts, general litigation, family law, adoptions, and criminal defense/traffic matters. Mark also serves as the City Attorney for the cities of Ste. Genevieve, Bloomsdale, and DeSoto and serves as the Prosecuting Attorney for the cities of DeSoto, and Herculaneum.
Mark and his wife, Rebecca, live in Festus and have four sons: two in college and two attending St. Pius X High School.